Worth Noting
Contrary to what I said in a posting on Fox News Opinion Tuesday that Atlantic Media Company hosted a going-away party for retiring White House senior adviser David Axelrod, Atlantic Media President Justin Smith e-mailed me to say the company "did not host the party and had nothing to do with it in any way."
Mr. Smith is accurate in the first instance and deserves a correction: it turns out the company itself did not host the party but rather Atlantic Media Vice President Linda Douglass.
But while Ms. Douglass was a White House colleague of Mr. Axelrod's, doesn't the question of appropriateness remain? Should a news organization be comfortable with one of its top management hosting a semi-official going-away party for a retiring White House advisor, attended by the president, cabinet secretaries and the elite of the administration?
There will always be social interactions between Washington journalists and Washington political figures. It's partly how the town operates, gets to know itself, cultivates sources, and collects gossip. Occasionally, even friendship intrudes.
But is it even conceivable that a news organization would be unconcerned if one of its senior executives threw a similar party for a retiring aide from a conservative White House?
And for that matter, for every Linda Douglass, who goes from working for CBS News to covering the 2008 campaign for ABC News to working in the Obama White House and then back to the world of journalism as a vice president for a news organization that prides itself as being one of "the most influential media outlets in America," how many conservatives can make a similar professional journey in and out of the mainstream media as a journalist?
This article originally appeared on FoxNews.com on Wednesday, February 2, 2011.
A federal judge ruled Monday that President Obama's "Patient Protection and Affordable Care Act" aka "ObamaCare" is unconstitutional and in violation of the Commerce Clause. I'm posting Judge Roger Vinson's opinion here. (PDF Download)
Two small episodes Saturday night and Monday morning were deeply revealing about the culture of official Washington now.
Keith Koffler wrote about the first Sunday for "White House Dossier." Atlantic Media — publisher of The Atlantic, National Journal, and Government Executive and which describes itself as "among the most influential media outlets in America" — hosted a going-away party for presidential senior adviser David Axelrod. It was held at the home of his former White House colleague, Linda Douglass, a reporter for ABC News before joining the administration.
The party drew President Barack Obama, Cabinet officials, White House aides and a passel of first-tier journalists, including (according to Koffler): Major Garrett of National Journal, John Harwood of the New York Times, Jake Tapper of ABC News and Chuck Todd of NBC News.
Could anyone imagine what would have been said about the inappropriateness of a similar event hosted by a news organization like Congressional Quarterly as a going-away party for a senior aide from a Republican White House?
But no, when it's the Obama White House, it's apparently just another cozy evening for the White House press corps and its subject.
Then there was story by Glenn Thrush in Politico based on an exit interview with Axelrod, colleagues and friends. In it, Axelrod (or his allies) say he "initially opposed Obama's plan to push full-speed ahead with health care reform," intimating it was a mistake to do so.
Axelrod also felt Obama rejected his advice to stay on the high road during the 2010 campaign, "fretting to friends that the midterms were putting too much 'torque' on Obama's core image."
After being beaten at the polls, the president returned back to listening to Axelrod and is "increasingly turning back to [a] vision of an elevated politics as 2012 approaches." If he keeps that tone, "Axelrod thinks Obama's recent rebound is sustainable," Politico went on.
Fortunately for President Obama who would otherwise have forgotten his campaign promises, Axelrod "ensured, at every step of the way in the White House, that the president stayed true to what he talked about" in 2008, though Politico reports," Axelrod's political advice was often brushed aside in the name of legislative sausage-making, much to his frustration."
For example, Politico reveals it was Axelrod who wanted to ban all earmarks at the administration's start, "but was quickly overridden." It took until this year's State of the Union for the president to finally wake to the proper course of action and say he "would veto any spending bill that contained earmarks."
Axelrod also "counseled Obama to crack down on bonuses given to executives at TARP-recipient banks" in early 2009. Not listening to his advisor resulted in "a political disaster" for the president that could have been avoided.
And so on.
Did Mr. Axelrod or the others who participated in the Politico story think they were doing President Obama any favors? It weakens the president to say that if only he had listened more to a departing adviser on issues and politics that he'd be in better shape. It's self-serving and disloyal and apparently not unheard of. After all, similar stories also abound surrounding the departures of other aides like Office of Management and Budget Director Peter Orzag and Chief of Staff Rahm Emmanuel, a standard practice for Team Obama.
This article originally appeared on FoxNews.com on Tuesday, February 1, 2011.
President Obama gave more of a campaign speech than a governing address Tuesday night when he delivered his State of the Union message.
Rather than offer any concrete prescriptions for the big issues the country faces, Mr. Obama offered soothing rhetoric and well-tested phrases (mentioning "jobs" 31 times compared to last year's 29 mentions) and a five year freeze on non-security discretionary spending, two years longer than the three year freeze he called for in last year's State of the Union but never implemented.
Today's visit to the critical battleground state of Wisconsin to herald "green energy" jobs carries possible benefits and dangers. While it helps show the president is engaged with job creators, it's unclear how enthusiastic Americans are for spending more borrowed money to subsidize an industry favored by the White House that makes up a infinitesimal part of the country's economy.
Tuesday's speech was filled with rhetorical flourishes that raise questions about the president's seriousness and his slipperiness. Witness his offer to back the GOP on medical liability reform. He's made that offer before: in his July 2009 address on health care to the Joint Session of Congress.
His declaration of support for legal reform during that address brought Republican Senators and Congressmen to their feet cheering. A couple of weeks later, the White House sent forward its proposal: a small pot of money for states to run demonstration projects on increasing patient safety. There was one hitch: if a state had passed medical liability reform, it couldn't apply for the funds.
If Mr. Obama fails to send a serious liability reform measure to Congress soon, Americans will have good cause to assume once again the president didn't mean what he said.
This article originally appeared on FoxNews.com on Wednesday, January 26, 2011.
President Barack Obama should get in and out of Friday's meeting with Congressional Democrats quickly --before they start asking how THEY figure in Mr. Obama's future political plans.
This week, the White House abolished its Political Affairs Office, transferring its director to the Democratic National Committee. No one should think this means the administration has given up on politics. After all, the managerof the president's 2000 campaign, David Plouffe, has just taken up residence in the West Wing as Mr. Obama's senior advisor. He's there to coordinate the president's re-election campaign.
But even when a president runs for a second term, members of his Party – especially incumbent senators and congressmen – expect help for fundraisers and appearances by the president and his team. So who will coordinate those efforts for 2012? Mr. Plouffe will have his hands full with keeping the White House and the campaign apparatus knitted up (trust me on this one). So the responsibility of helping Democratic candidates either falls to a Plouffe deputy or simply ceases being a significant White House political priority.
Congressional Democrats desperate for administration support might not want to let Mr. Obama get out of their weekend meeting without first getting reassurances that he and his people will help them in 2011 and 2012.
This article originally appeared on FoxNews.com on Friday, January 21, 2011.
In case you are interested or know any potential candidates, Ride 2 Recovery is looking for a few full-time interns. Further information on available positions can be found at My AmeriCorps.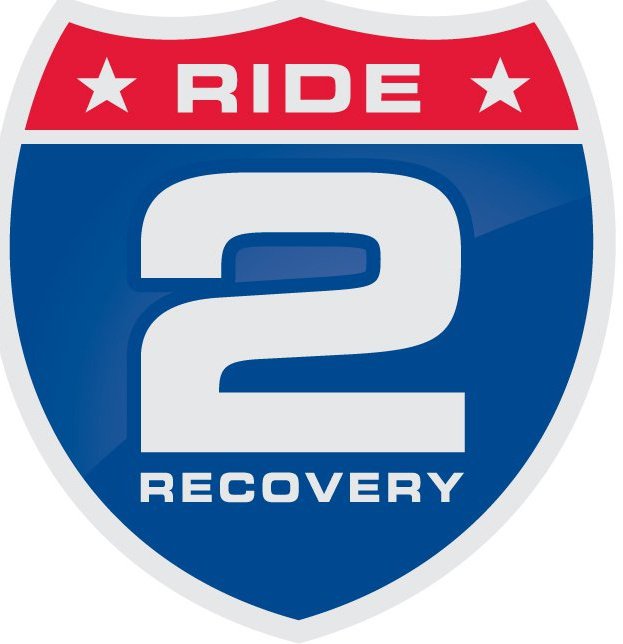 Thanks to the recent WSJ article written by Karl Rove asking Americans to donate to the Ride 2 Recovery program, more than 150 people donated almost $20,000 (the donations are still coming in) to the program. These donations make a difference in the lives of our injured veterans.
With the money received over the past day and a half, Ride 2 Recovery will be able to provide a special R2R simulator for the warriors taking part in the Project HERO (Hospital Exercise Rehabilitation Opportunity) indoor/outdoor cycling program at Bethesda National Military Hospital. The simulator was to be cut due to a lack of available funds. R2R hopes to bring Project HERO to more hospitals in the future.
The simulator is a valuable tool to measure the progress of the wounded warriors taking part in the program and will be featured as part of the rehabilitation room built for a injured veteran for a ABC show to air in February. (the simulator measures power, speed, torque output of each limb, heart rate, cadence, etc) and is fully programmable.
For a quad amputee like Marine Todd Nicely, it will allow him to improve the strength, fitness, and power of his residual limbs. This = mobility, health, self esteem, = Life.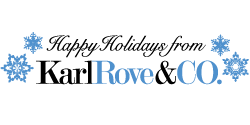 Wishing you and your loved ones a Merry Christmas, Happy Holidays and a Happy New Year! We are especially thankful for our brave men and women who have sacrificed spending the holidays with their own families and friends in order to keep our country safe. Our thoughts and prayers are with them in a special way this holiday season.
Karl Rove will participate in an author satellite tour for ABC Radio Networks on Monday, December 6, from 8:30 AM to 10:30 AM ET.
He will join the following radio shows to discuss his book, "Courage and Consequence: My Life as a Conservative in the Fight," which is now available in trade paperback with a new chapter, "Obama: The Myth."
SATELLITE TOUR SCHEDULE:
Peter Tilden Morning Show with Teresa Strasser
TalkRadio 790 KABC-AM | December 6, 2010 ?8:30 AM ET

The John Gambling Show
WOR News Talk Radio 710 HD | December 6, 2010 ?8:40 AM ET

KCMO Morning Show With Chris Stigall
KCMO Talk Radio 710 | December 6, 2010 ?8:50 AM ET

The Trey Ware Morning Show
News Talk 550 KTSA | December 6, 2010 ?9:10 AM ET

The Frank Beckmann Show
News/Talk 760 WJR | December 6, 2010 ?9:20 AM ET

The Chip Franklin Morning Show
AM 600 KOGO | December 6, 2010 ?9:35 AM ET

The Ralph Bristol Show
Supertalk 99.7 WTN | December 6, 2010 ?9:40 AM ET

The Mark Davis Show
WBAP News/Talk 820AM & 96.7FM | December 6, 2010 ?10:06 AM ET

Originating from Washington.
Produced in New York, Studio 9 by Wayne Fisk.
This map shows the congressional districts Republicans won by less than five points; the districts they won by five to 10 points; and the districts they won by more than 10 points. It also shows the congressional districts Democrats won by less than five points; those they won by five to 10 points; and the districts Democrats won by more than 10 points. According to the map, the GOP won more districts by a greater margin in 2010, and Democrats had more close call districts won by a smaller margin. These are important factors that represent the depth of GOP victories this past election cycle and potential districts for future pick-ups. (To download PDF map, visit http://bit.ly/giW4uL)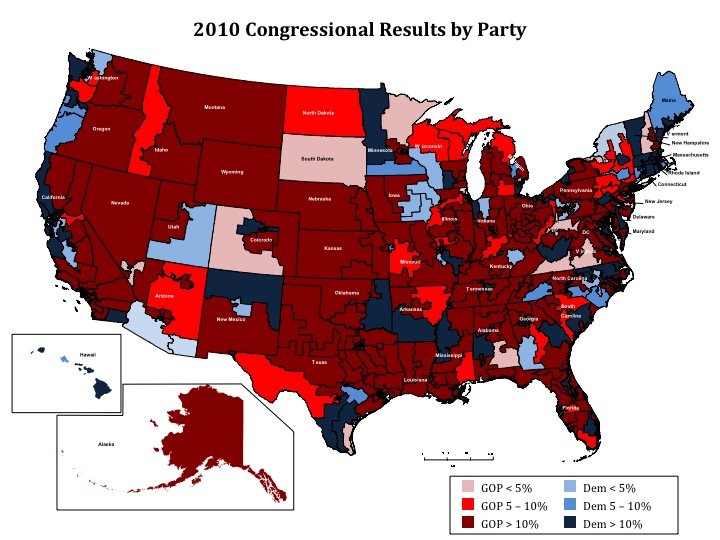 Methodology: Results are compiled from election authorities, via the New York Times. The two remaining undecided seats were allocated to the party leading as of November 29, 2010.